How Often Should I Change My Motorcycle Oil?
How Often Should I Change My Motorcycle Oil? By KingsMotorcycleFairings.com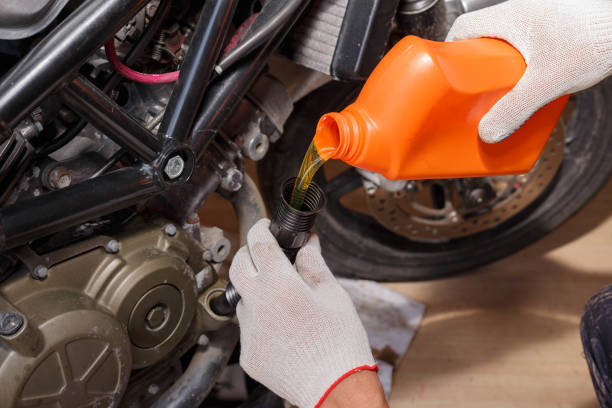 If you're an experienced rider or just starting out, the question of "how often should I change my motorcycle oil" is a frequent one. Changing your motorcycle's oil is just as essential as changing the oil of your automobile. But lets face it, life gets busy and it's very easy to forget something like changing your oil! However, the performance and longevity of your motorcycle depends on it.
Frequent oil changes assist in the cleaning and lubrication of your motorcycle's critical internal components, which helps protect it from wear and strain. Our team at KingsMotorcycleFairings.com wants to emphasize the importance of consulting your owner's handbook before changing or adding oil to your motorcycle. Also, if you're not confident in changing your motorcycle oil yourself, please bring it into a professional shop for servicing.
Ok, so just how often should you change your motorcycle oil?
When answering this question there are many different factors that should be considered...
What type of oil does your bike take?

How often do you ride?

Are you riding at fast speeds?
The type of oil your bike needs plays a major role in determining how often it will need to be changed. 
If you use

Synthetic oil,

it should be replaced every 7,000 to 10,000 miles, or at the very least once a year.

If you use

Semi-synthetic oil,

it should be replaced every 5,000 to 6,000 miles, or at the very least once a year.

If you use

Mineral oil,

it should be replaced every 2,000 to 3,000 miles, or at least once a year. Some experts may recommend a minimum of twice a year.
If you feel your motorcycle is not running/performing as smoothly as it had previously (while not yet riding above the recommended miles for an oil change), then we strongly recommend you check the integrity of the oil to determine if it is dirty oil or simply low in volume.
Another important thing to note is that you may need to replace your motorcycle oil more frequently if you are not regularly driving your motorcycle. Whether you're driving a Honda, Suzuki, Kawasaki, Yamaha, Aprilia, Triumph, BMW, Ducati or similar, then your motorcycle needs to be regularly driven (not idling) to help burn off excess moisture that has been accumulated by the oil to help prevent oil degradation and oil corrosion. If you are unable to ride your motorcycle for more than 30 minutes each week, it is recommended that you change the oil every 4 months.
The team here at KingsMotorcycleFairings.com hope that you found this article helpful. If you have extra time, we'd love for you to visit our online store for the largest selection of Motorcycle Fairing Kits, Helmets, Gear & Accessories!